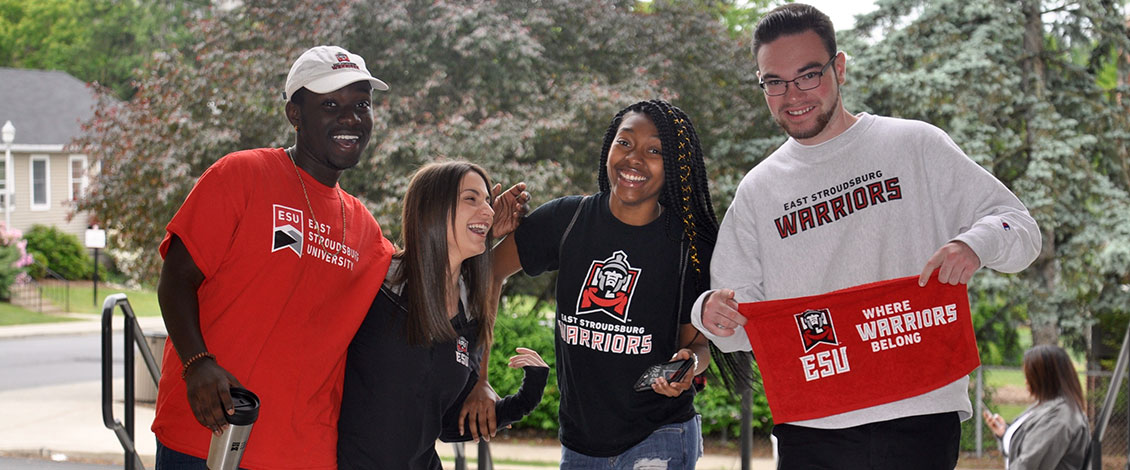 Warrior Food Pantry
The Warrior Food Pantry is a program to support students that are in need of a food source during the academic year.
This initiative was developed out of the need to ensure that students are able to obtain necessary food for their well-being. The pantry is a collaborative initiative with St. Matthew's Church and ESU. The entire operation is volunteer and donation-driven. Spear headed by Campus Life and Inclusive Excellence and supported by SAA, Inc, APSCUF, Service Learning Initiative Committee and ESU Campus Catholic Ministries, the Warrior Food Pantry is one of many ways that ESU is responding to identified needs of students.
Food Pantry Access
The Warrior Food Pantry is a self-service pantry allowing students to obtain the necessary food to support their well-being. Students will be able to enter the pantry and choose their own food and supplies. The food and supplies are available to ESU students at no cost. Please wear a mask and bring your ESU ID. The Food pantry will be open on Tuesdays between 2:00 - 4:00 pm.
Emergency Needs
The Warrior Food Pantry is designed not only to provide students with a weekly opportunity to access food, it also can satisfy a student who is in immediate need. To obtain emergency food, please complete one of the forms below and the student will be contacted as to when and where to obtain emergency food. Request can be submitted at anytime and fulfillment will be scheduled with the student between Monday and Friday.
To request emergency food items to refer a student please submit a CARE referral.
Community Food & Other Resources
In addition to the Warrior Food Pantry, there are many local organizations that serve food and other needs. All of these resources are available to ESU students.
Donations
The Warrior Food Pantry is completely supported by donations, which are accepted throughout the year.
List of non-perishable items that are needed
General Items:
Crackers
Bread
Soups
Noodles
Peanut Butter
Dry Pasta
Mac and Cheese
Canned Vegetables
Chili
Canned Tuna
Condiments:
Ketchup
Mustard
Mayonnaise
Breakfast Items:
Pop-Tarts
Oatmeal
Canned Fruit
Boxed Cereal
Breakfast Bars
Granola Bars
Snacks:
Jam & Jelly
Fruit Cups
Cookies
Pudding
Microwave Popcorn
Hygiene & Household Products:
Toothpaste
Bath Soap
Toilet Paper
Tooth Brush
Feminine hygiene products
Dish Soap
Deodorant
Paper Towels
Donation drop-off can be made at the following locations
Campus Buildings:
Koehler
Library
Monroe
Innovation Center
Science and Technology
Stroud
Reibman
Residence Halls:
Hemlock
Volunteer
The Warrior Food Pantry is completely operated by volunteers. Collecting, inventorying, organizing and shelving donations will be an on-going need of the pantry. If you are interested in volunteering for the pantry, please click the appropriate link below:
Student groups interested in helping with collections on a weekly basis should email foodpantry@esu.edu.
Contact Us
For more information, please contact Campus Life and Inclusive Excellence at (570) 422-3463 or email us at foodpantry@esu.edu.
Contact Us
Contact Information
Campus Address

Reibman Administration Building

Phone:

Fax:

(570) 422-3410 (Fax)
Title of Department Leader

Coordinator Food Pantry

Name

Selena Hines

E: