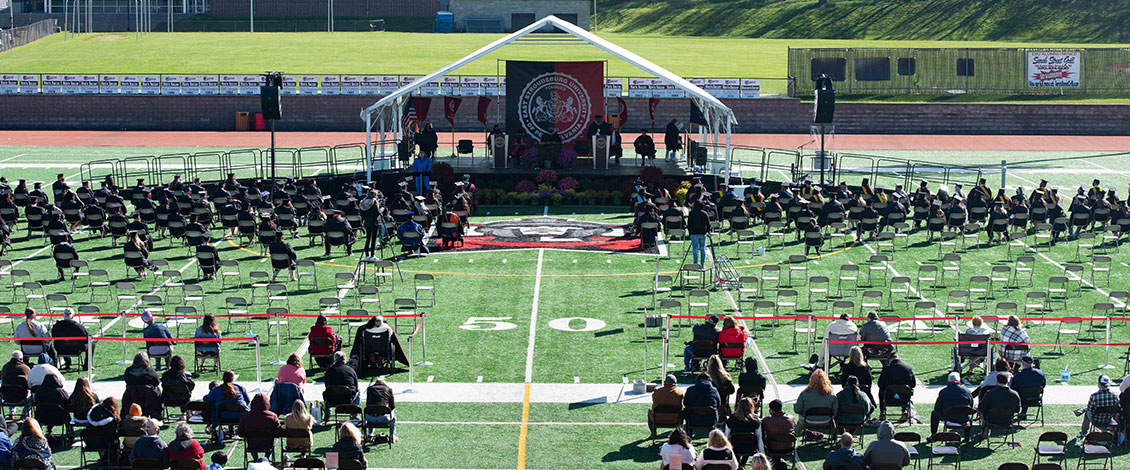 Spring 2024 Commencement
Congratulations to our Graduates!
Graduation is a time for you to reflect on your ESU experiences, remembering the good times, the challenges, and those who have helped you along the way.
As you prepare for commencement day please remember that your perseverance, hard work and commitment to yourself, your family, your faculty mentors and our wonderful institution has brought you to this very special moment in your life.
On behalf of the administration, faculty and staff at ESU, we wish you continued success as you begin this new chapter in your life.
We hope that your experiences at ESU have been meaningful and rewarding, and that you will continue to take pride in your alma mater.
Congratulations! You will soon become alumni of East Stroudsburg University of Pennsylvania and we ask that you be there for us as we have been there for you!
For assistance or special accommodations, please contact graduation@esu.edu or (570) 422-2815. Accommodations may include, but are not limited to, services for physical, cognitive, visual or auditory assistance.
Contact Us
Contact Information
Campus Address

Zimbar-Liljenstein Hall

Phone:

Fax:

(570) 422-2849 (Fax)
Title of Department Leader

Registrar

Name

Geryl Kinsel

E: