The Liberal Arts Experience: Fostering a Love for Learning
East Stroudsburg University's Honors Program invites talented students to fully participate in "the life of the mind." Students in the program have the opportunity to meaningfully engage with their professors, to encounter great works and words, and to build community with other dedicated students in order to make the most of what college can offer.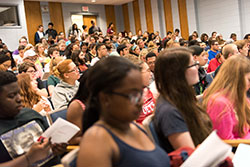 Founded in 1988, the Honors Program aims to provide experiences similar to the Liberal Arts colleges, both in the classroom and in the wider campus culture. Through small classes with great teachers, group conversations with visiting speakers, free admission to campus performances, excursions to cultural events in New York City and Philadelphia, honors students are directed into the full college enterprise.
Each ESU honors student will have a special first-semester class, "An Honors Introduction to Liberal Arts." This class will address the nature and value of the Humanities, the skills and values for successful scholarship, and steps to effective research. In subsequent semesters your 50 hours of General Education will include 15 hours (five classes) of special Honors courses. These have limited enrollments of 20 honors students; hence, the gifted teachers enlisted for these classes will be more interactive, interdisciplinary, and engaged in your written work. Honors students must maintain a GPA of 3.3 to remain in the program. In the junior year, you work with a professor from your major department on a three credit-hour independent study. This work culminates in an "Honors Thesis" that is completed at the end of the junior year. In the final year honors students are encouraged to present and publish this thesis in undergraduate conferences and the ESU Undergraduate research journal, Nous.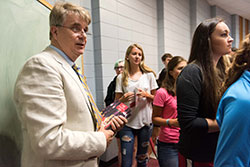 Honors House. The Honors House on campus provides honors students a place for study, group projects, wireless internet access, and a comfortable setting for sharing ideas and one another's company.
Honors Student Organization. You can be part of an extracurricular club that organizes film nights, pasta dinners, game nights, and other social events.
Editing Nous, the undergraduate research journal. Nous is the undergraduate research journal of East Stroudsburg University. Journal submissions are open to undergraduate students in all academic majors. Students in the Honors program make up the editorial board and review the student submissions.
Citizenship in a Diverse World
Another part of the mission of the Honors Program is to foster an attitude of responsibility to self and community." Technology today enables us to be members of communities that extend beyond our campus to communities across the nation and around the globe. And so it is ever more important that denizens become citizens. The Honors Program designs its courses, extracurricular excursions, and study-abroad opportunities to instill an appreciation for the diverse histories and cultures that shape us and connect us to each other. And, further, the program works to instill a desire to contribute responsibly as citizens of interconnected communities.
One tremendous opportunity for Honors students to develop these appreciations is the PASSHE Summer Honors Program Scholarship. Scholarships are awarded to two students from each of the 14 state system universities to study abroad together for several weeks in summer. The scholarship funds the travel, rooming, and tuition expenses. Students earn six credit-hours in two courses that fulfill General Education requirements. The courses are specially designed to make us of the special resources of the countries visited. The program has recently conducted programs in Ghana, France, Italy, Belgium, and China.
Another aspect of the Honors program that is directed towards citizenship is a requirement for ten hours of community service from each honors student each semester. What that service will be is limited only by your imagination -anything that contributes to the life of the campus and community will be considered.
Honors Thesis: The Capstone of the Honors Program
The culminating project of your ESU Honors Program will be your honors thesis. In your junior year, you will select an advisor from your major department and register for three credits of independent study to work on a research-based project. This work culminates in an "Honors Thesis" completed at the end of the junior year. You and your advisor will design a project that is appropriate for your particular major. Honors thesis projects might include:
An English major who does a study of the works of a major
Author.
A biology major who does a statistical study of changes in the
Local frog population.
A music major who analyzes the music he or she performs.
In the senior year honors students are encouraged to present and publish their thesis in undergraduate conferences and the ESU
Undergraduate research journal, Nous. In this way honors students have the opportunity to fully apply their knowledge and skills and to demonstrate the full range of their intellectual activity. As a result, the honors thesis can serve as an impressive testimony of your qualifications for post graduate programs.