Special Events
The Pocono Mountains Theatre Company (2016-17)
Staged Reading Series
The Pocono Mountains Theatre Company (the PMTC) is a newly formed, 501(c)(3) non-profit theatre company whose mission is to produce and develop diverse new works by American artists, both local and national; to cultivate and develop audiences to support the future patronage of American theater; and to provide a positive collaborative impact to the community, both culturally and financially.
The PMTC now has the residency at Smith McFarland Theatre, where the ESU Theatre Department has hosted the PMTC's staged readings of Krapp, 39 by Michael Laurence, The Hate Inside, or Second Fiddle by Maggie Bofill, Untill Death by Sarah T. Schwab, and STET by Kim Davies. Laughing Wild, a comedy written by Tony-Award winning playwright Christopher Durang, is scheduled to be presented in April, 2017.
Sam Rudy, Press Agent for the Musical, Hamilton (2016)
Mr. Rudy shared insights into promoting Broadway productions, including Hamilton and Avenue Q, with the ESU students.
Tom Jones, the Author of The Fantasticks (2016)
One of the Broadway legends, Tom Jones, was invited to the ESU Theatre Department's production of The Fantasticks and discussed his career in musical theatre.
John Lee Beatty, Tony Award Winning Scenic Designer (2016)
Scenic designer, John Lee Beatty, winner of two Tony Awards, was invited by the ESU Theatre Department to give a presentation of his designs and discuss his careers in theatrical design.
Liztech Collaboration (2014)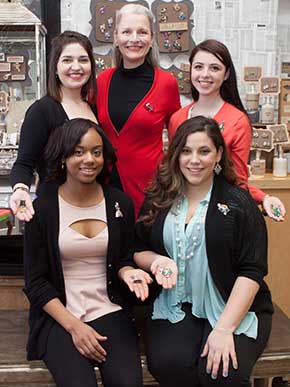 The Wizard of Oz The magical classic, The Wizard of Oz, is coming to East Stroudsburg University of Pennsylvania in the theatre department's musical adaption of L. Frank Baum's novel from April 24-27 at the Smith-McFarland Theatre in the Fine and Performing Arts Building. This version includes memorable songs from the beloved MGM film which is marking its 75th anniversary.
A fundraising initiative between the theatre department and Liztech Jewelry will allow individuals not only the opportunity to purchase unique pins that coincide with characters from the Wizard of Oz, but also the opportunity to support the theatre department.
For every pin from The Wizard of Oz collection sold between April 21-27, either in-store or on-site during one of the performances, 50 percent of the profits will be donated to ESU's theatre department.
Arts & Letters Speaker Series (2010)
Marni Nixon: Voice of the Stars
Grammy-nominated soprano, Emmy-award winning actress and author, Marni Nixon came to ESU and spoke about her fascinating career in musical theater working with such composing masters as Leonard Bernstein.
She discussed her experiences in dubbing the singing voices for Natalie Wood in "West Side Story," Audrey Hepburn in "My Fair Lady," Deborah Kerr in "The King and I," as well as a few notes for Marilyn Monroe in "Gentlemen Prefer Blondes."
A special master class was given to the Theatre majors by Ms. Nixon.
New Clown and Physical Theatre Workshop (2005) with Don Rieder and Valerie Dean, instructors for professional and university training programs who have worked with the Cirque De Soleil and the National Circus School of Canada
Contact Us
Contact Information
Campus Address

Fine & Performing Art Center

Phone:

Fax:

(570) 422-3008 (Fax)
Title of Department Leader

Department Chair

Name

Christopher Domanski

E:

Phone: