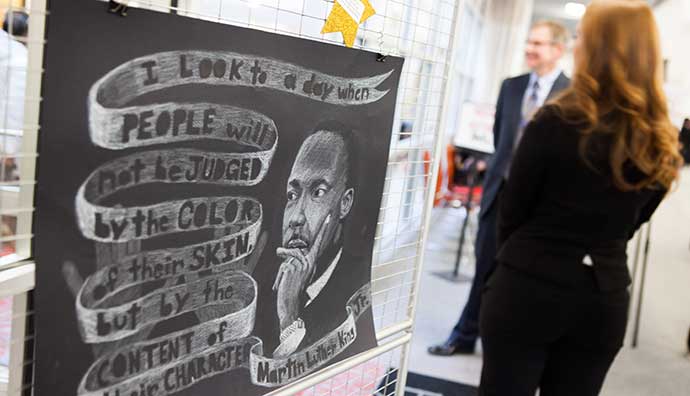 21st Annual Martin Luther King, Jr. Celebration Breakfast
"The Beloved Community."
Register The East Stroudsburg University Dr. Martin Luther King Jr. Celebration Breakfast was initiated by former President Robert Dillman and other dedicated individuals including Leslie Antonette and Mel Gillespie in 1997.
This celebration is a significant and symbolic event in the East Stroudsburg Community as it is one of the only programs in the area honoring the legacy of Dr. Martin Luther King Jr.
Through the years, the program has expanded in size unifying over 400 people from the community on MLK's Day of Observance.
The program itself has transformed to include components such as the MLK Award, the Julianna V. Bolt Art Contest in which students from all high schools within Monroe County are encouraged to participate and all entries will be displayed at the event, a keynote speaker, musical performances, the Boddie Scholarship Award, and ESU's official Day of Service in honor Dr. King.
Since its inception, 29 Gertrude Mary Smith Boddie Scholarships have been awarded to ESU students and a total of 47 MLK community and university awards have been presented.
This is will be an event you don't want to miss!
The breakfast is scheduled for Monday, January 15, 2018, from 8 AM to 10 AM in the Mattioli Recreation Center on the campus of ESU.
Tickets are available on the Foundation website.
Prices are as follows: $40 per person, $15 per student, $300 for a table of 8 (paid in full).
For more information contact Juanita M. Jenkins, Director of the Office of Multicultural Affairs, at (570) 422-3896 or email at jjenkins20@esu.edu