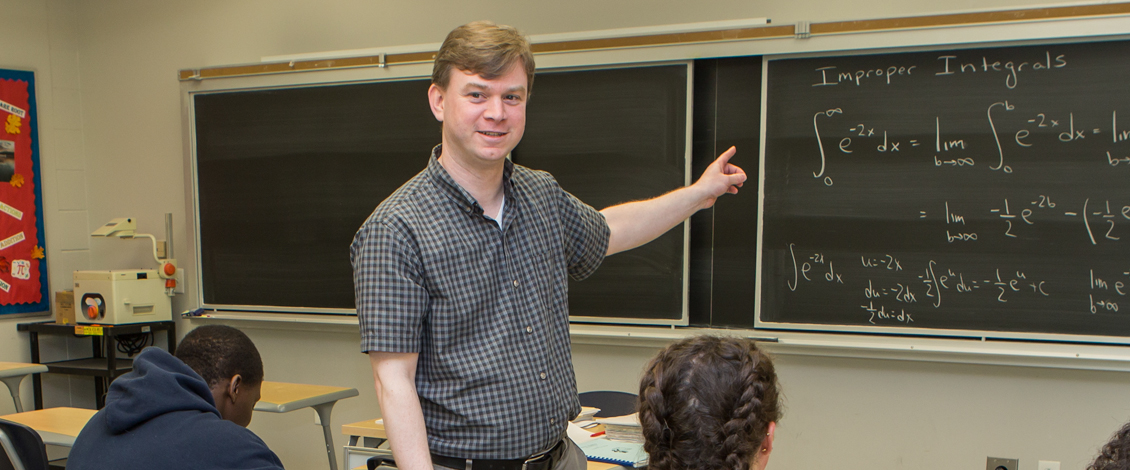 Mathematics Minor
Students in other majors who wish to deepen their knowledge of mathematics, statistics, or actuarial science can earn a minors offered by the mathematics departments.
For students in majors such as chemistry, computer science, and physics, the minors may require only one or two additional mathematics courses beyond the mathematics courses already required for their major.
To register for any of the minors, the student should contact the Mathematics Department.
Program Plans for Minors
Minor in Mathematics: 21 Credits
MATH 140 Calculus I (4 credits)
MATH 141 Calculus II (4 credits)
MATH 220 Discrete Math Structures (3 credits)
MATH 240 Multivariate Calculus (4 credits)
MATH 320 Linear Algebra (3 credits)
One MATH Elective 300 or Higher (3 credits)
Minor in Applied Statistics: 18 Credits
MATH 110 General Statistics (3 credits)
MATH 402 Applied Statistics (3 credits)
MATH 405 Experimental Design and Sampling for Surveys(3 credits)
MATH 416 Linear Statistical Modeling with SAS (3 credits)
CPSC 130 Introduction to Computer Programming I (3 credits)
Choose ONE of the following

MATH 487 Internship in Statistics (3 credits)
ECON 332 Forecasting Methods (3 credits)
Minor in Mathematical Statistics: 18 Credits
MATH 311 Statistics I (3 credits)
MATH 405 Experimental Design and Sampling for Surveys (3 credits)
MATH 411 Statistics II (3 credits)
CPSC 130 Introduction to Computer Programming I (3 credits)
Choose TWO of the following

MATH 402 Applied Statistical Methods (3 credits)
MATH 416 Linear Statistical Modeling with SAS (3 credits)
MATH 487 Internship in Statistics (3 credits)
Advice for Students Interested in Actuarial Science
Students interested in Actuarial Science usually major in Applied Mathematics: Finance. At a minimum, the following courses should be completed:
MATH 140 Calculus I (4 credits)
MATH 141 Calculus II (4 credits)
MATH 220 Discrete Math Structures (3 credits)
MATH 240 Multivariate Calculus (4 credits)
MATH 311 Statistics I (3 credits)
MATH 320 Linear Algebra (3 credits)
MATH 411 Statistics II (3 credits)
The following courses are also recommended for Actuarial Science:
MATH 280 Mathematics of Finance (3 credits)
ECON 111 Principles of Macroeconomics (3 credits)
ECON 112 Principles of Microeconomics (3 credits)
Contact Information
Campus Address

Science & Technology 118

Phone:

Fax:

(570) 422-3899 (Fax)
Title of Department Leader

Department Chair Mathematics

Name

Dr. Olivia Carducci

E:

Phone: