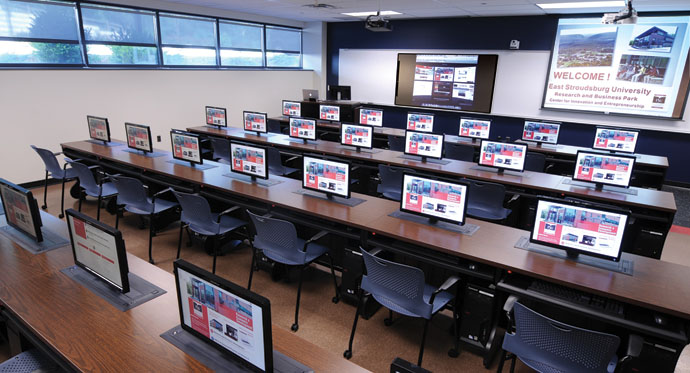 Support Services
Access to Student Interns
Faculty and Business Mentors
Business Development Assistance
Access to entrepreneurial and business networks
Training Workshops
Business Plan Development
Marketing Strategy Development
Organizational Management
Government Contract Bidding
Legal-Incorporation, Taxation, etc.
Customer Service
Financial Resources
Investment Opportunities
Access to Loan Programs i.e. Micro-Loans
Angel Networks
Venture Funds
Networking
Peer-to-Peer
Advertising/Promotional Events
Business and Community
Referrals
Entrepreneurial Leadership Center (ELC) Resource Room
Articles, brochures, books, and web-based subscriptions on a variety of entrepreneurial and business topics are available in the ELC Resource Room. Networked computers are available for students and Business Accelerator Affiliate Members.
Pocono Mountains Keystone Innovation Zone (PMKIZ)
The Business Accelerator is located in the Pocono Mountains Keystone Innovation Zone in Monroe County, Pennsylvania, one of the fastest growing counties int eh Commonwealth. The PMKIZ includes properties within a 2-mile radius of East Stroudsburg University and the Pocono Mountain Corporate Center East in Mt. Pocono, a 231 acre site.
Business Accelerator Affiliations
Association of the University Research Parks (AURP)
Ben Franklin Technology Partners (BFTP) NE Business Incubator Network
National Association of Business Incubators (NBIA)
Global Consortium of Entrepreneurship Centers (GCEC)
Pennsylvania Angel Network (PAN)
Pennsylvania Bio
Pocono Mountains Angel Network (PMAN)
Pocono Mountains Keystone Innovation Zone (PMKIZ)
University City Science Center Port of Technology
University Economic Development Association (UEDA)