Family Weekend 2017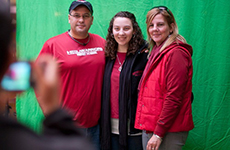 East Stroudsburg University invites all ESU families to enjoy a magical weekend with us during our Warrior Family Weekend 2017. Family Weekend is a campus-wide celebration in honor of parents, grandparents, and extended family that will take place from September 22 - 24, 2017. This unique weekend experience will provide families with the opportunity to spend time together, explore the campus, behold the beautiful Pocono scenery, and experience the wealth of campus activities that are in store. Families can discover more about life at the University by participating in the Warrior Fan Zone and football game, a magic show featuring Ran'd Shine, a full-dome video and sound show at McMunn Planetarium, a self-tour of the University's Schisler Museum of Wildlife and Natural History, Dansbury Commons dining, a classic car show, and so much more!
Registration for Nature By Night at the Museum & Planetarium is required
If you are interested in making hotel reservations for the weekend, click here for information on local lodging.

The Office of Alumni Engagement cordially invite you to the Annual Legacy Family Luncheon and Pinning Ceremony honoring families who have a multi-generational tradition of attending East Stroudsburg University. Join us for lunch followed by a pinning ceremony that recognizes Legacy families. You must register to attend the Legacy Family Luncheon and Pinning Ceremony.

Stony Acres Family Challenge 2017
As part of the ESU Family Weekend, Stony Acres is offering a Family oriented Challenge/Ropes course. The day will consist of challenges that gives families the opportunity to work together to solve problems while building group cohesion with other families. Typically, a challenge course includes elements constructed of cables stretched between trees, suspended tires, logs and/or ropes. Some elements are at ground level, while others are 20 feet or more above the ground. All elements are "challenge by choice" so that participants have control over the level of difficulty upon which they embark. All participants must have health insurance. You must register to add end the Stony Acres Family Challenge.
Registration Deadline: Thursday, September 21, 2017
Fees:$10 per person includes lunch
Date: Sunday, September 24, 2017
Time: 10:30 a.m. – 3:00 p.m.
Directions to Stony Acres: Google Map
Questions or Additional Information:
Maddy Constantine,
Program Director of Stony Acres
Phone: (570) 422-3334 or (570) 223-8316
Email: mconstantine@esu.edu
If you have questions or are looking for more information on Family Weekend please email one of the co-chairs, Ly'Esha Flening or Chris Bello, or you may call at (570) 422-3123 or (570) 422-3055.