Welcome Parents!
As the parent of an ESU student, you will enjoy exciting times as your son or daughter pursues his or her individual journey. The university is thrilled that you have entrusted ESU with this important part of your son's or daughter's life.
This online ESyoU Parents resource has been designed with you in mind. It includes links to important two-way channels of communication for ESU parents and the university.
As members of the East Stroudsburg University community, please do not hesitate to contact us with any questions, compliments or concerns. In the meantime, we look forward to assisting and communicating with you through your online ESyoU Parents tools!
New for Parents
March 2, 2018
I would like to sincerely thank everyone who could participate in our Community Town Hall yesterday, including representatives from the Pennsylvania State Police, the Stroud Area Regional Police, the District Attorney's Office and the Monroe County Drug and Alcohol Task Force. While we sincerely hope that incidents such as those that have plagued our campus lately never occur again, please know that the honest discourse that took place at our meeting will lead to actionable items that will continue to define our campus as a safe place to live and learn. While the safety of our campus community is a ongoing process, several important lessons were learned as a result of our Town Hall.
The University will:
Provide timely communication with the campus community and victims of criminal activity of this magnitude is paramount. This includes reviewing our current communication system to determine how to best message information that, at times, cannot be specific due to pending investigations.
Continue to increase the number of Campus Police and Security Officers and the availability and visibility of safety officers throughout campus.
Continue to enhance video surveillance across campus to deter, detect and resolve criminal activity on-campus.
Review our communication structure with Resident Directors and Resident Advisors.
Review parking procedures to address safety concerns and student escort service to increase responsiveness.
Review the need for not only additional shuttle routes, but also concerns expressed regarding the current services.
Review responsiveness of calls to University Police.
Review statistics for LiveSafe and share them with the campus community.
Implement increased foot patrols on campus.
Provide further opportunities for students, faculty and staff related to active shooter training.
Expand the membership of ESU's safety committee.
Continue to collaborate with local and state police to maintain a heightened law enforcement presence on campus.
Continue to add lighting across campus.
Ensure the safety of our campus community will continue to be proactive rather than reactive.
Criminal incidents such as those discussed at the Town Hall meeting remind of us our continual responsibility to review our safety procedures. I want to thank those who participated in this event once again. Warriors stick together; it is through our collective efforts that the safety and security of our campus community will be improved now and into the future.
Thank you.
Marcia G. Welsh, Ph.D.
President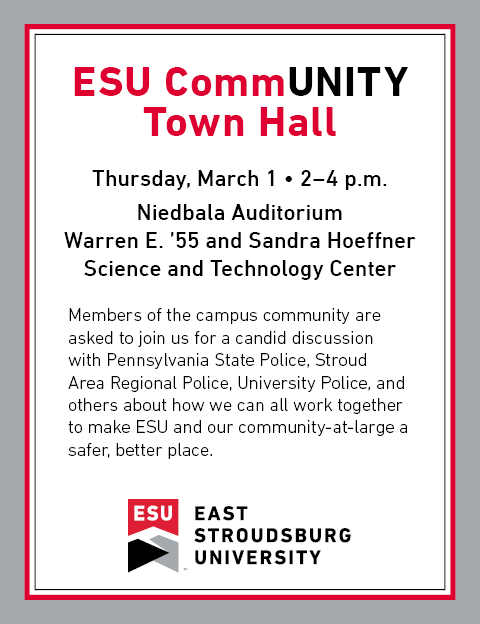 February 21, 2018
East Stroudsburg University has been notified by Pennsylvania State Police that two more arrests have been made in the case of the assault on ESU's campus on January 31. There have been a total of five individuals arrested for this attack, none of which are ESU students.
February 20, 2018, 11:30 a.m. Update
ESU has just received an update to our earlier message about the incident on January 31. According to Pennsylvania State Police (PSP), three of the six suspects identified have been arrested and charged in the incident as of this morning. PSP will provide the University with additional information as soon as it is available.
February 20, 2018
This is a campus update on the latest on the assault on an ESU student that took place January 31st. The Pennsylvania State Police have arrested and charged six individuals they believe are responsible for the attack. None of those arrested are ESU students. Please be advised that all security measures, including frequent patrols of campus, will continue. We are in the process of organizing a town hall meeting for all campus constituents to meet with local law enforcement and other officials to talk about crime that is affecting our campus community. Please be sure to check your e-mail and Warrior Notes in coming days for specifics about this meeting and plan to attend. Thank you.
February 1, 2018
Dear Parents,
Early this morning, we sent the following message to all students, faculty and staff about an incident that took place at approximately 11 p.m. on January 31. As a State-owned university, the incident has been turned over to the Pennsylvania State Police and an active investigation is underway.
University Police are assisting the State Police on their investigation and have increased their presence around campus. We will provide an update on the investigation as information becomes available.
If you have specific questions or concerns, we advise you to contact Dr. Doreen Tobin, vice president for student affairs, at (570) 422-3463. Thank you.
Message:
University Police and the Pennsylvania State Police are currently investigating an altercation that occurred this evening in the area of the Shawnee Quad that resulted in injury to an ESU student, who is being treated at a local medical facility. There is conflicting information on the exact nature of the incident, but we know that the assault began in front of Shawnee Hall as the victim was walking from the Mattioli Recreation Center. It is believed that the victim may have known the assailants, however we are cautioning all students to stay safe by walking in pairs or groups along well-lit pathways. University Police also wish to encourage students to use their safety escort program, to utilize the LifeSafe mobile safety app if necessary to give them a direct connection with campus police and to use the SafeWalk program to share any information, tips and safety concerns associated with tonight's assault. Students may also reach out to campus police at 570-422-3064 should they know anything about this evening's incident or have any concerns regarding campus safety.
We ask that the campus-community avoid the Shawnee Quad area overnight while Police conduct their investigation. Thank you.
Warrior Promise - January 26, 2018
New students enrolling at East Stroudsburg University (ESU) for fall 2018 are getting a promise – the promise of a guaranteed, fixed, four-year tuition rate. This new initiative, the Warrior Promise, guarantees students they will pay the same tuition rate, without an increase, for the next four years.
The Warrior Promise will establish a guaranteed tuition rate for four academic years or eight consecutive semesters. This fixed tuition rate will allow students to complete as many undergraduate degrees, minors and certificates as they choose within their four-year window. A Warrior Promise tuition rate will be established by the Board of Governors for each new entering undergraduate cohort of degree seeking freshmen and transfer students.
"Our expectation is that the Warrior Promise will help students remain focused on reducing their college expenses and graduating in four years," said ESU President Marcia G. Welsh. "This initiative will also provide a tremendous benefit to students and their families as it adds financial predictability and removes their concern about annual increases in tuition."
While the Warrior Promise will apply to all new incoming undergraduate students, currently enrolled undergraduate students will have an opportunity to opt in and have their tuition fixed for four years.
ESU joins a select number of other colleges and universities nationwide with guaranteed tuition programs. ESU is the first public university in Pennsylvania to provide its students the assurance of a guaranteed four year tuition rate.
East Stroudsburg University received approval to launch the Warrior Promise for fall 2018 from the Board of Governors in January 2018. For more detailed information about the Warrior Promise, a series of frequently asked questions may be found at esu.edu/warriorpromise.
Fire Notice - January 24, 2018
ESU Parents,
There was a laundry fire in Hemlock Suites shortly after 11 p.m. last evening. No injuries were sustained and personnel and residents acted quickly to evacuate the building until the local fire department declared it safe to return. The areas most affected were the first floor laundry room and a portion of the small corner lounge. No student rooms were severely disturbed however suite rooms will be checked later today to ensure they were not affected in any way.
If you have any specific questions or concerns about this incident, please contact Dr. Doreen Tobin, vice president for student affairs, at dtobin@esu.edu or (570) 422-3463. Thank you.
Update on Campus Safety - December 13, 2017
Update on the shooting incident that occurred on the outskirts of campus at approximately 1:30 a.m. on Monday, December 11:
As this matter happened on state owned property the investigation was handled by Pennsylvania State Police (PSP).
According to information shared with University Police by PSP, possible suspects were identified early in the investigation, detained on Monday morning and subsequently charged Monday evening with attempted homicide. As this was an active investigation by PSP, University Police were unable to release specific information with the campus community until later Monday after the three individuals were formally charged.
While the University informed the campus community about the incident early Monday morning and sent an email to the campus community later in the day, advising of the arrests, the University was unable to share specific information about the investigation as it was taking place. University Police, in consultation with state and local police, were confident that there were no additional threats to the campus community related to this incident.
Through PSP's investigation of this incident, at least one suspect has been tied to involvement in several criminal acts that have caused a spike in reported crimes on and around the university campus in recent weeks. These investigations continue and University Police will be working with PSP and the Monroe County District Attorney's Office on filing the appropriate charges.
In light of recent events, and to increase the safety of our campus community, University Police have reassigned staff to increase patrol during hours of darkness particularly around the library during finals week. University Police have also coordinated with the Pennsylvania State Police and Stroud Area Regional Police to have additional patrols on campus for the duration of the fall semester. The increased visibility of police around campus should not cause alarm, these actions are only provided to enhance campus safety and not the result of any new incidents.
During the Winter Break, the University will be taking additional measures to further increase campus safety; such measure includes the hiring of additional police and security officers and the installation of additional security cameras.
University Police continue to encourage students to use their safety escort program and to download LifeSafe, a mobile safety app, that will give them a direct connection with campus police, use the SafeWalk program and the ability share information, tips and safety concerns with campus police.
Do not hesitate to reach out to campus police at 570-422-3064 should have any concerns regarding campus safety.
Monday Morning Message from Marcia G. Welsh, Ph.D. - Monday, August 28, 2017
It's difficult to think about the beginning of a fresh, exciting, new academic year at East Stroudsburg University without considering the national climate that resulted in death and destruction in Charlottesville, Va. While as a society we are fortunate to have freedom of choice and expression, as a public institution of higher education, everyone within our campus community needs to be certain that our conversations about violence and terrorism remain civil and respectful even when views may be different than our own. Speaking on behalf of ESU, we will not tolerate racism, Nazism or other cultural hostilities that would threaten our students, our personnel or our families.
There is no place – anywhere – for events such as those that that occurred in Charlottesville. As one of the most, if not the most diverse institution within the State System, ESU's mantra must be at the forefront of progressive behavior, particularly about how we treat everyone. While there is a need to understand the rights of others to express their views as a privilege of Freedom of Speech, we need to work as a cohesive campus community to take a stand against violence/hate and to keep our campus safe for everyone. Our campus police are committed to making ESU a safe space for our students, our faculty and our staff who feel targeted; know they are here to protect you. We are also mindful of voices on social media and will do our best to report inappropriate messaging in a timely manner to officials on campus and elsewhere.
But we also need to watch out for one another as Warriors. I want to charge faculty, staff, administrators and student leaders to think about their roles and consider how each of us can help to guide ESU's campus community through these tempestuous times. Let's make time to encourage respectful conversation about what's happening in the world and ask one another how Charlottesville and other events impacts our lives, our studies, our friends and families, our futures. While we may not be able to stop these offensive actions from happening, we, as a place of academic enrichment, can create a community of understanding.
Let us begin the semester with compassionate dialogue that enables us to share our perspectives candidly yet peacefully. ESU's Committee on Diversity and Inclusion is already talking about ways we can come together as a campus community to exchange ideas and share viewpoints openly, candidly and respectfully. When we identify dates/times/locations for some of these meetings, I will share them with everyone at ESU and hope that all of you will consider attending. Please be part of the conversation and let learning and healing begin with us. Meanwhile, if you have any questions or concerns about things taking place on our campus or if you would like to be part of the diversity and inclusion movement at ESU, please e-mail at inclusion@esu.edu and someone will get back to you, confidentially, within 24 hours.
I look forward to moving into a new academic year with hope, dignity and worth for all people.
Marcia G. Welsh, Ph.D.
President
State System's Board of Governors Approves 3.5 Percent Tuition Increase for 2017-18
The Board of Governors of Pennsylvania's State System of Higher Education today approved a 3.5 percent increase in tuition for the 2017-18 academic year.
The $127-per-semester increase sets the base tuition rate for most full-time Pennsylvania residents—who comprise about 90 percent of all State System university students—at $3,746 per term, or $7,492 for the full year. Even with the increase, the State System universities will remain the lowest-cost option among all four-year colleges and universities in the state.
The tuition increase will help offset about half of a projected $71.7 million budget deficit across the System. The universities still will be required to trim a combined nearly $37.8 million in expenditures to balance their individual budgets this year. The universities already have reduced expenditures by a combined nearly $325 million over the last dozen years in order to balance their budgets and to help hold down student costs.
"The universities—despite the enormous challenges they have faced over the last decade, and continue to face today—have done an extraordinary job of controlling their expenses in order to maintain the best quality and affordable higher education for our students," said Board of Governors Chairwoman Cynthia D. Shapira. "We all are committed to ensuring this continues."
The Commonwealth over the last three years has restored about $40 million of the nearly $90 million in funding that was cut from the State System's annual appropriation at the beginning of the recession. Prior to 2015-16, the System had gone seven straight years with either flat or reduced funding from the state.
"We are grateful to Gov. Wolf and the General Assembly for this latest increase in support, the third increase in a row," Ms. Shapira said. "It's a strong endorsement of the important role we play as Pennsylvania's public universities."
This year's state budget includes about $453.1 million for the State System, up from about $444.2 million last year, an increase of $8.9 million, or 2 percent.
"This new investment in the State System will help our universities continue to serve our students and the entire Commonwealth," said State System Chancellor Frank T. Brogan. "It is gratifying to know that even in these enormously challenging times, both the governor and the General Assembly understand how important public higher education is to Pennsylvania's future and to Pennsylvania's economy. Our State System universities are a smart investment—one that will pay enormous dividends today, tomorrow and for years to come."
Even with the increases in Commonwealth support over each of the last three years, the State System will receive about $50 million less from the state this year than it did in 2007-08, just before the onset of the recession that severely impacted both the state and national economies and led to several years of funding cuts to the System. This year's appropriation essentially matches the amount the System received from the state in 2001-02.
Nonresident, undergraduate tuition also will increase by 3.5 percent beginning in the fall, ranging from $11,238 to $18,730 for the 2017-18 academic year. The resident, graduate tuition rate will be $500 per credit, an increase of $17. The nonresident, graduate tuition rate will increase by $25 per credit, to $750. The technology fee will be $464 for full-time resident students, and $706 for full-time nonresidents.
Pennsylvania's State System of Higher Education is the largest provider of higher education in the Commonwealth, enrolling more than 100,000 degree-seeking students and thousands more in certificate and other career-development programs. Collectively, the 14 universities that comprise the State System offer more than 2,300 degree and certificate programs in more than 530 academic areas. Nearly 520,000 State System university alumni live in Pennsylvania.
The State System universities are Bloomsburg, California, Cheyney, Clarion, East Stroudsburg, Edinboro, Indiana, Kutztown, Lock Haven, Mansfield, Millersville, Shippensburg, Slippery Rock and West Chester Universities of Pennsylvania. The universities also operate branch campuses in Oil City (Clarion), Freeport and Punxsutawney (IUP), and Clearfield (Lock Haven), and offer classes and programs at several regional centers, including the Dixon University Center in Harrisburg and in Center City in Philadelphia.
Dear Students, Faculty, Staff, Alumni, and Friends:
Last year, we undertook an important effort to better understand the challenges facing the State System — the same challenges facing many universities around the country.
The Board of Governors launched a strategic review of the System's 14 universities and the Office of the Chancellor — with the intent of ensuring our ability to provide a high-quality, affordable experience.
This has been an incredibly inclusive process. Over the last several months, NCHEMS — the consultant hired to assist with this effort — conducted more than 100 meetings across the state. Hundreds of students, faculty, staff, alumni, business and community leaders, and elected officials participated in these meetings as part of the review. In addition, NCHEMS received comments and suggestions from more than 800 individuals through the website established for this project.
NCHEMS has analyzed a wide range of student, program, and financial data, as well as regional and national trends in higher education and workforce demands and today presented a series of recommendations for the future of the State System.
Now, the Board of Governors will carefully review those recommendations and gather additional feedback from all stakeholders before making any decisions regarding which options to pursue in the near-, mid-, and long-term. (Click HERE to download those recommendations and share your thoughts.)
Our dedicated faculty, staff, and university leaders do a tremendous job providing outstanding educational opportunities to students, and have done so for many years. Through this review — and the important steps we will take in the months and years ahead — we must boldy transform our universities for the future. The primary goal throughout this process is to ensure the State System universities can continue to provide an excellent, high-value education to students today and long into the future.
Our message to students is simple: As our 14 universities prepare to open their doors in the fall, we're confident that this process will make us stronger and better poised to help you succeed. That's our commitment to you, and our commitment to all of Pennsylvania.
Cynthia D. Shapira
Chair, Board of Governors
Frank T. Brogan
Chancellor
June 27, 2017
Dear ESU Parents,
Thank you for choosing East Stroudsburg University (ESU) for your son or daughter's higher education experience. As the Vice President for Student Affairs, I can assure you that addressing student needs is our top priority. To that end, I'd like to share information with you about an upcoming change in health services in order to provide all ESU students with outstanding health care and a seamless continuation of care, if needed.
I'm pleased to announce that effective July 1, 2017, ESU intends to enter into an agreement with our neighbor, Lehigh Valley Hospital–Pocono (LVH–Pocono), previously known as Pocono Medical Center, to provide basic ambulatory care services that were formerly provided in a health center located on ESU's campus. Students will be seen at the East Stroudsburg University Health Services at Lehigh Valley Hospital–Pocono, located at 200 East Brown Street in East Stroudsburg, a short walk from ESU's campus. Fees for this service will continue to be covered as part of the Comprehensive Health Care Fee you now pay for health care, counseling and psychological services, preventive education and accessibility services.
The new relationship with LVH–Pocono will enable ESU students to continue to have access to basic ambulatory health services including, but not limited to: medical evaluation/treatment for illness and minor injuries; referrals to off-campus health care specialists and ESU support services; some diagnostic testing; tuberculosis testing; physical examinations for employment, drivers licenses and teacher's certification; testing, treatment and education for sexual health concerns; and, health education and information about illnesses when they arrive on campus August 25.
To access the East Stroudsburg University Health Services at LVH–Pocono, students will be required to present their ESU student I.D. card (eCard). Once registered, they will be triaged by a Registered Nurse who will determine the level of care necessary. Some students may be seen by a Certified Registered Nurse Practitioner (CRNP) or physician and some medications will be available when warranted. Students who require more significant treatment will be referred directly to the necessary level of care within the Lehigh Valley Health Network for quick access to additional medical treatment (e.g. prescription medications not available at the East Stroudsburg University Health Services at Lehigh Valley Hospital–Pocono, advanced diagnostic testing, emergency room visits, x-rays and referrals). As always, we recommend that ESU students have health and accident insurance to cover the cost of medical services not offered by ESU's agreement with LVH–Pocono. Fees for any medical services provided above the ambulatory services mentioned above are the responsibility of the student. The move from our current Health Services Center to a partnership with LVH–Pocono enables us to offer our students a number of benefits while providing the same quality health services at no additional cost to your family:
Additional Hours: ESU students will have dedicated access to care seven days per week at the ExpressCARE located on the LVH-Pocono campus in East Stroudsburg. Located at 200 East Brown Street, ESU students can receive care from 8:00 a.m. – 5:00 p.m. Monday through Friday and 12:00 p.m. – 4 p.m. on Saturday and Sunday. Students will also have access to ExpressCARE services from 5 p.m. to 8 p.m. Monday through Friday and 8 a.m. to 12:00 p.m. and 4 p.m. to 8 p.m. on Saturday and Sunday at ExpressCare but will be comingled with other patients from the community.
Convenience: While not on ESU's campus, the ExpressCARE located at LVH-Pocono is a short walk from campus on the corner of Prospect Street and East Brown Street, (adjacent to the hospital), maintaining an accessible continuum of care. Further, an additional convenience for care that requires immediate attention off hours, ESU students may also be seen at any of the other Lehigh Valley Health Network ExpressCARE locations in Monroe County for walk-in care services, at no additional cost.
Electronic Records: Student medical records will ultimately be transitioned to electronic record files offering greater ease for coordination/transition with other healthcare providers.
Proximity for Referrals: Students who visit an ExpressCARE in Monroe County with a medical concern that needs advanced care/treatment may be easily transitioned to LVH–Pocono in East Stroudsburg for a seamless range of care.
During the summer months (July 1 through August 24) as ESU transitions health services to LVH-Pocono, students currently enrolled or returning to campus prior to the start of the Fall semester on August 25 may access medical care services at the ExpressCARE Center on Prospect Street in East Stroudsburg from 8 a.m. to 8 p.m., seven days a week by showing their ESU I.D. card.
ESU also intends to hire a Health and Wellness Director to supervise the implementation of this transition and to be a direct point of contact for any student or parent who has questions or concerns about the health services. This individual will also be responsible for public health surveillance on our campus to ensure that any emerging community health concerns are addressed.
For now, if you need additional information or wish to discuss this change, please reach out to me at (570) 422-3463 or at dtobin@esu.edu. Thank you for placing your trust in ESU. Rest assured that we all place significant emphasis on the wellbeing of your son or daughter and look forward to making his or her experience at ESU the best it can be.
Sincerely,
Doreen M. Tobin, D.Ed.
Vice President for Student Affairs
East Stroudsburg University
Update from the State System:

Data analysis now underway; review on-track
The consultant (NCHEMS) assisting the Board of Governors with the Strategic System Review is hard at work analyzing the data collected over the past several months as it works toward developing recommendations for the State System. Additionally, the team from NCHEMS is reviewing the considerable stakeholder input that has been garnered through their campus visits, face-to-face meetings, conference calls, and via the survey on the website.
The review continues to move along as scheduled, with NCHEMS slated to make a presentation to the Board of Governors in July. Throughout the process, students, faculty, staff, and anyone interested in the process has been encouraged to visit the website to get updates and to provide their personal ideas, insights, and opinions. That website continues to be available at: www.NCHEMSproject.com/system-review.
A Money Talk with Your New Graduate
Summer To-Do List for New Students, Parents & Families
Why College Orientation Matters
Help Your Student Get Ready for a Summer Job or Internship
Spring Prep for a Smooth Fall Return
Final Countdown to Graduation: Your Senior's To-Do List.
Parents & Guests of Graduating Seniors: ESU Commencement Information.
Now is the time to apply for scholarships for 2017/2018. Through the ESU Foundation's website, students can review hundreds of scholarships currently available and, in some cases, apply directly online. Online applications will be directed to the appropriate department scholarship committee for consideration.
Go to www.esufoundation.org/scholarshipopportunities to see available scholarships.
With this valuable resource, faculty and students are able to:
Review the criteria of hundreds of scholarships
Learn which department makes the recipient selection
In many cases, apply directly online
Further information about scholarships for the 2017/2018 academic year can be obtained from Laurie Schaller, scholarship coordinator for the ESU Foundation, at lschaller@esufoundation.org or by telephone at (570) 422-3658.
ESU Parents: Now you can listen to ESU Radio!
Warrior Sporting Events, Student News, ESU Events and Activities, Music and More: WESS 90.3 FM.
In an effort to keep you informed about items of potential interest, you are invited to subscribe to a periodic newsletter from ESU. Please access this link to subscribe: ESU Newsletter.
Have a Question?